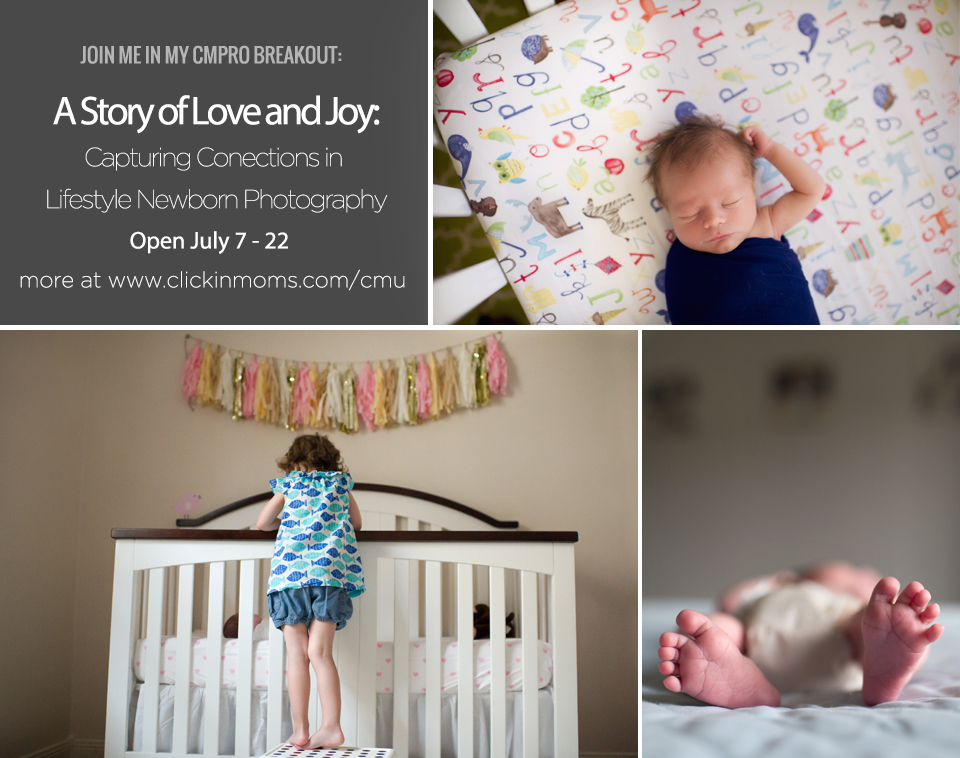 I am so excited to share about something I have spent countless hours on for months and months. This is a project that very special to me one a topic that I hold close to my heart. To all of the families out there who give me the opportunity to photograph you and your babies…THANK YOU! I sincerely enjoy it. I am so grateful for the opportunity. To all of those photographers out there who might be interested in learning more about lifestyle newborn photography, here's more information about this clickinmoms break out session.  you do not have to be a clickinmoms member to register and you can find out more here.

Lifestyle photographers Kelly Garvey and Lisa Tichane share a passion for photographing babies in an authentic, natural way. They strongly believe in telling the story of a growing family, instead of focusing on the infant alone. They have teamed up to share years of experience and learning, to teach you everything they know about shooting lifestyle sessions, and to bring together photographic perspectives from separate sides of the world. They will guide you through their lifestyle philosophies, workflows, and strategies — from preparing for a newborn session to capturing connections to editing to business matters. Along the way, they'll compare and contrast their approaches in order to help the readers find their very own lifestyle path.
This breakout session is jam-packed with hands-on tips and advice, including several troubleshooting case studies teaching you how to make the best out of your session even in challenging circumstances, business advice on how to get started with lifestyle sessions (or switch to lifestyle if you were already a newborn photographer), video examples of real-life newborn family sessions on location, and watch-me-edit videos.
Whether you are a hobbyist, an aspiring pro, or a seasoned pro wanting to embrace lifestyle in newborn sessions, this breakout will guide you through everything you need to know to document this special time of life in the most natural way and to look at newborn photography with fresh, new eyes.
WHAT YOU'LL LEARN
• Why embracing lifestyle in newborn photography can be a fabulous decision for yourself, your clients, and your business
• How to make the most of the space and light you have on location
• How to best prepare your clients for a smooth, stress-free session
• How to build and maintain relationships with your clients and help them feel comfortable being themselves
• How to nail your session even if difficult situations: dark client house, cluttered client house, fussy baby…
• How to best approach a session that includes young siblings
• How you can recreate a lifestyle environment in a natural light studio
• How everything you've learned about newborn sessions can also help you work with older non-sitting babies (3-6 month-olds)
• How you can recreate a lifestyle environment in a natural light studio
• Endless sources of inspiration for lifestyle images including not only the baby, but also every single member of the family (even the furry ones!)
• Lisa's and Kelly's approach to editing lifestyle newborn images in Photoshop
• Lisa's and Kelly's pricing models along with the background of how they got where they are
• How other artists define their own lifestyle newborn voice (featuring Mae Burke, Michael Kormos and Brittany Chandler)
WHAT'S INCLUDED
PDF #1: Lifestyle– why and how
PDF #2: Nailing the session
PDF #3: It's all about the family
PDF #4: Inspiration for non-sitting babies
PDF #5: Inspiration from interviews with our featured artists
1 professional shooting video (see Kelly in action as she shoots two newborn sessions in her clients' homes)
2 editing videos (Kelly's editing process, Lisa's editing process)
Q&A Video
And a shout out to some of my people! This is definitely not even close to all of the newborn sessions I've done. A lot of them are on old hard drives that would take me some time to gain access to. I'm excited to share a glimpse into some of the sessions that I could get my hands on. When I look at these, I remember these sessions well and have great memories from my time with you. Thank you for giving me this great privilege of working with you.