A couple groups of photographers through Clickinmoms have decided to get together to do a monthly project called: The Way I View….(insert topic here). Each month has a new topic & the key is to use perspective & creativity to depict the topic through your own eyes. This month, I have to admit, was a big bomb for me. Everyday something happened that pushed back doing or even thinking about this project. I'm sure as I go it'll become more of a routine & I will plan ahead better/ put extra thought into it! Today Garrett & I sat down to take pictures of the three of us: me, him & my bump

I had planned five places around the house for us to do different things together. Wouldn't you know, I got the tripod set up, the camera settings ready & Garrett in his place just to find out my wireless remote needed batteries & would no longer fire a shot. It ended up I was only able to do one of my five ideas & no pictures of us together. I'm pretty sure I am crazy, but I let him take the pictures of me – it was the only way I was going ot have something to post & there was no extra time! He pressed the shutter standing on his step stool while my camera was on the tripod. One slight move & he could've taken it DOWN! I think I lost a few years of my life but he loved it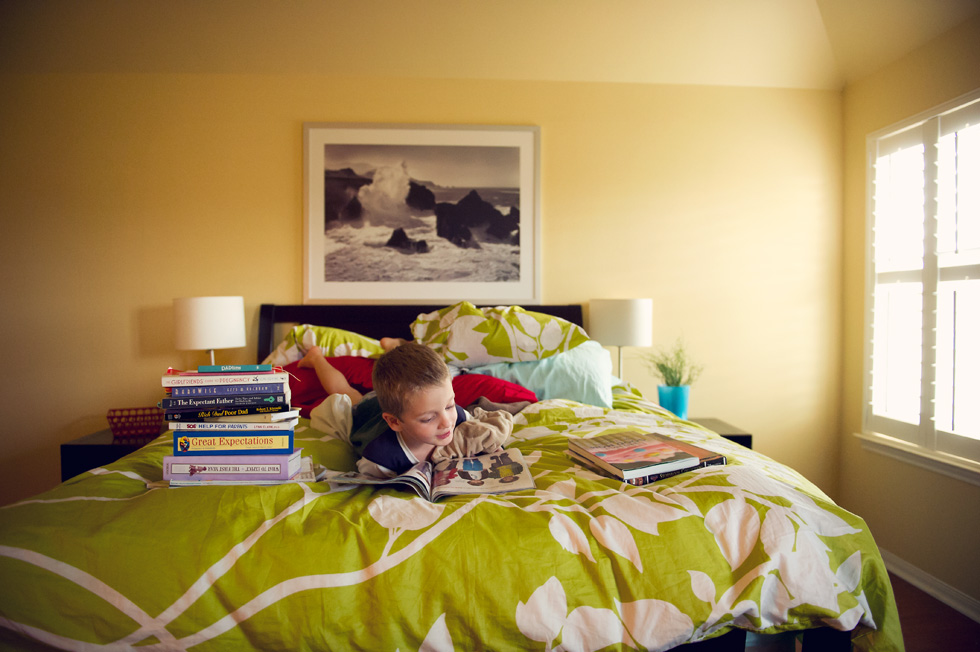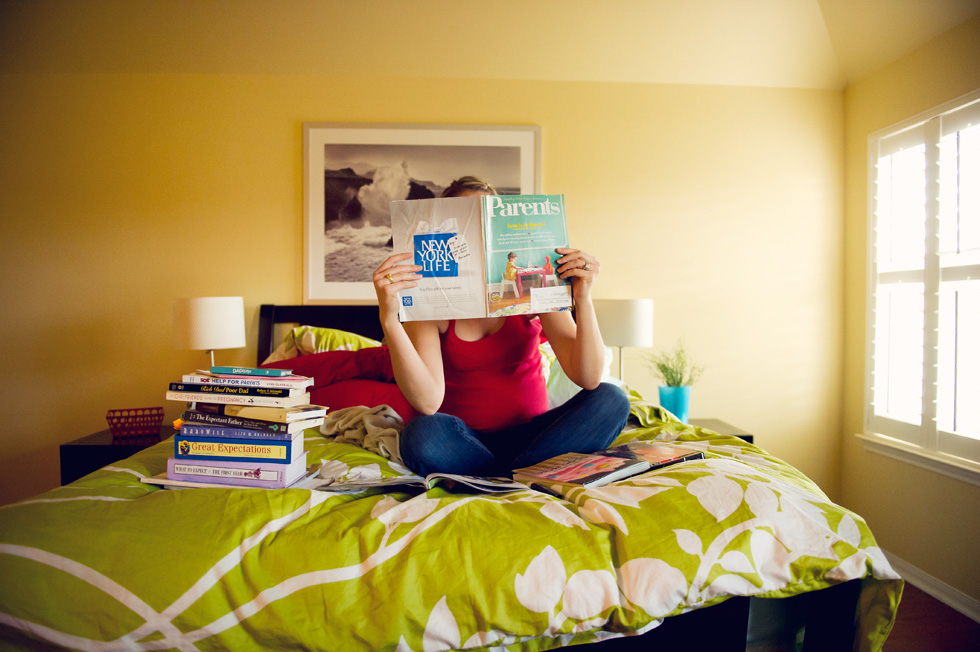 So…why does this depict a new beginning? [Not going to lie, I don't do a whole lot of reading.] Although I did just read an AWESOME book that a client/ friend got me that I recommend to any moms who put too much on their plate: I Was a Really Good Mom Before I Had Kids. Loved it…and that comes from someone who doesn't usually do much reading! It really helped take the guilt away from not being able to do it all & do it all well. Anyway, I am rambling. It has more to do with the title of all the books – BABY BOOKS! These days have been a bit crazy getting ready for something that will feel like a new beginning when it's here – the birth of Miles! We have been trying to prepare Garrett as much as possible, so he's been reading lots of big brother books & is super excited.
I desperately want to take 6 weeks off to be with him. An uninterrupted six weeks with minimal work might I add

It'll be tough because the work multiplies by the day & in my desperate attempt to keep up, I have become a workaholic. I want to get done with my list of 2,013 things before he is born so that I can just relax for SIX WEEKS. That will be MY new beginning! Garrett's new beginning will be being a big brother & John's will be being a dad of two I guess. It'll be new for all! We are excited  but busting it to get "ready" if there is such a thing! I kind of forget to do with newborns so I'm a little nervous.
Since we are all doing this together as a group – I'd love to link up with a fellow photographer friend of mine from Clickinmoms who is super talented….let's see what she documented as a new beginning in her eyes! And she is (drum roll please!)…..Kristin Ingalls! Go check her out.
When you look at hers, you can be directed to another photographer & another & another until finally you complete the circle & see them ALL. The last one on the list if you started here with mine is Emma Wood so if you make it back to her, you know you've seen all of them. You won't want to miss hers (her pics are always so good)! Correction: Megan Squires  is now in the group & is the last person in the loop if you are starting with my page. Yay Megan!